Winter landscapes in a special light.
We were in the winter in Gemünden (Main) for a walk and recorded the most diverse lighting conditions throughout the day.
Just great how the light in the Main is reflected. In addition, the snow-covered landscape.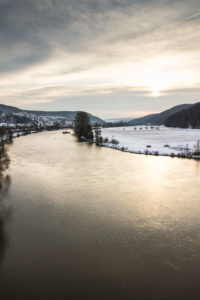 Sometimes you have to go close to discovering special features.

As the snow thaws, even icicles have formed.
The streets of the city are covered with snow.
Close.
The sun creates a beautiful atmosphere: blue skies and snow-covered trees.
On the Scherenburg in Gemünden.
With a great view of the city. Fog is spreading, and you might think it's starting to snow again.
A view of the icy streets.
The Scherenburg from below.
Will the trains keep to their schedule in the snow on the tracks?