Dreamlike winter landscape: The Sauerland is so beautiful in winter
Snow, ice, cold – all this is not uncommon in Sauerland, at least not in winter. Here you can see snow as far as the eye can see. He lays down on the meadows, on the trees, on the paths and creates an extraordinary atmosphere. And you can see how relaxing such a winter walk can be. Just enjoy the peace and nature. Because the snow can disappear from one day to the next. Just as the weather / nature wants. (Part 1 comes here)
The snow has fought itself through the dense forest to the very bottom. In some cases it even lies on the small branches.
The snowflakes cling to each other.
You just want to take something home with you – if the snow wouldn't melt…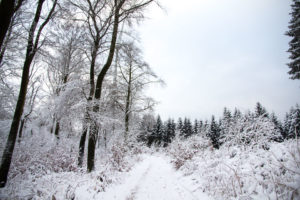 Again and again nice to stagger through the snow. It really crunches when he hasn't kicked so flat yet.
Eventually we also came to an old railway bridge.
Aren't they great to watch? Standing in rank and limb, with a lot of snow on it.
(Part 1 comes here)